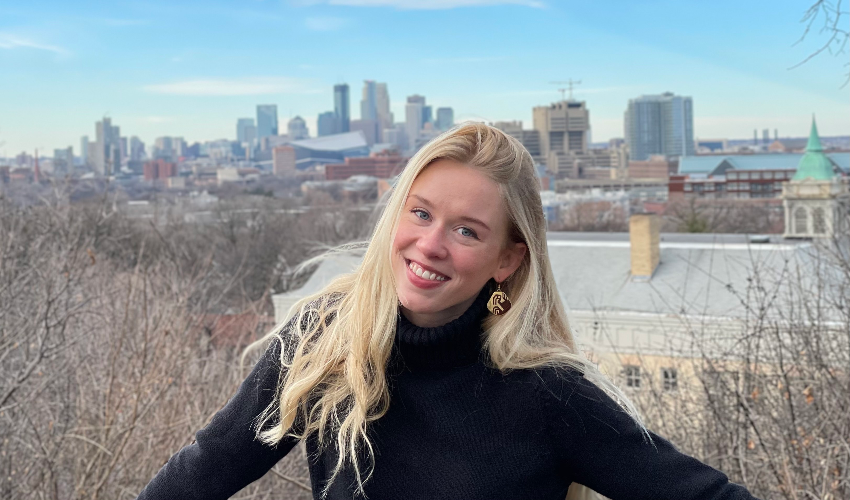 At Punch Through, we encourage everyone to proudly be themselves and want you to know the people behind the work that we're so proud of. That's why we launched our "Meet the Team" series, where we introduce you to one of our team members each month.
Meet Tia. Associate Software Engineer at Punch Through. When she's not in school, she likes to draw, paint, and do things outside and keep herself active.
What were you doing before working at Punch Through?
I'm going to school at the University of Minnesota for a BS in Computer Science. When I first started college, I wasn't interested in STEM at all and started a degree in Political Science. I happened to take a History of Computing class as an elective, where we talked about the future of technology — that sparked my interest. So, I took a programming class, and that's how I got into the field.
As far as jobs go, I've had a lot of student jobs before coming to Punch Through. I worked in IT and as a web developer making applications used for research.
What is your favorite thing about Punch Through culture?
I like the "small-company vibe." Everyone tries to get to know each other, with virtual happy hours and hangouts or via [insert collaboration tech] when moving a project forward. It's personal, yet professional. Even as an intern, I feel like an employee.
Tell me a story about your most memorable moment while working at Punch Through
When I started, everyone was already working remotely. The first time I got to see everyone face-to-face was at the company "trip," when we all met socially distanced at a park. It was really fun to see and speak to everyone in person.
We played games, ate lunch, and talked in a big circle of chairs 6ft apart. While I'm working, I only connect with a small group of engineers, so I hadn't really met a lot of others who aren't working on my particular project. This was a great way to meet others in the company and get to know them.
What cool or rewarding things do you get to do on a regular basis?
I get to work on actual client projects and do work that's valuable and helps the project and company, not just busy work. I think it's cool that I get to work with full-time engineers and be on a small team with some really experienced people. It makes you feel more like an equal, while still providing a chance to learn from knowledgeable professionals.
What is the most valuable part of your work to you on a personal level?
I think because the company is culturally and socially involved, that pushes me to build relationships with people more so than I would have. I like going to the social Zoom events to push me to build networking skills and get a little bit more out of my comfort zone. It's valuable to build relationships with coworkers. This is especially true for someone starting out, as it helps me develop my soft skills.

I also have retrospectives with a mentor engineer, where I reflect on work I've done. When learning new skills, it can be of benefit to discuss them with others.
What is different about Punch Through versus other places you have worked?
I have downtime to build relationships. It's focused on work, but a part of that work is taking a few minutes to get to know my coworkers. We have a strong culture and focus on getting to know the individual. Punch Through integrates their interns into full-time work. I get to sit in on client projects and work in parallel with full-time engineers.
Punch Through is also very understanding about work-life balance. There's a general interest in me, not just in my learning and growing path but my interests and hobbies . This keeps me future-facing and pushes me to think about the company as far as my personal growth.
Interested in Joining Our Team?
Tia is an Associate Software Engineer who enjoys being outdoors and channeling her creative side through painting and drawing. To see how you can become one of Tia's teammates, check out our available positions.
To meet more of the Punch Through Team, read these interviews:
Meet the Team – Karel Kalthoff – Firmware/Software Engineer
Meet the Team – Louis Barrett – Engineering Intern, Summer 2019
Meet the Team – Erin Moore – Hiring Coordinator and Office Manager
Meet the Team – Alec Letourneau – Software Engineer
Meet the Team – Andy Lee – Senior Embedded Engineer
Meet the Team – Amanda Nguyen – Embedded Engineer
Meet the Team – Gretchen Walker – Mobile Software Engineer
Meet the Team – Charlie Kellerman – Hardware Engineer
Meet the Team – Chee Yi Ong – Senior Mobile Software Engineer
Meet the Team – Henry Anfang – Embedded Engineer
Meet the Team – Ryan Kornetzke – Embedded Engineer
Meet the Team – Julian Hays – Mobile Software Engineer
Meet the Team – Tyler Cadman – Senior Embedded Engineer
Meet the Team – Bret Hassler – Principal Firmware Engineer
Meet the Team – Emily Hinderaker – Marketing Specialist
Meet the Team – Ashish Derhgawen – Mobile Software Engineer
Meet the Team – Elaine Skaare – Project Manager
About the Blog Series…
Great culture builds great products. Some of the ways culture is expressed at Punch Through are through authenticity, autonomy, and experience. The individuals at Punch Through not only build great products, but they are the culture. The individual team members aren't defined by their past or title. They're encouraged to be true to themselves, learn from each other, and grow professionally and personally.
It's essential to get to know the people behind the projects and to understand how culture plays a vital role in everything we do. To help get inside the heads of the genius behind the brand, we're launching a "Meet the Team" blog post series. Each post will feature one of our talented team members where you can get to know them on a bit more personal level, and see how their contributions make Punch Through what it is today.